Available hours for 2015: Oct. 22nd 9-12 Noon and 4:30 to 6PM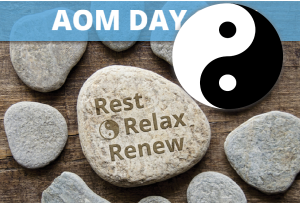 OFFERING A FREE MINI STRESS REDUCTION TREATMENT!
AOM Day is observed nationally to increase awareness on the benefits of Acupuncture & Oriental Medicine. If you're looking for an opportunity to try acupuncture without obligation, AOM Day is for you!
Acupuncture & Oriental Medicine offers an alternative therapy that promotes natural healing and prevention.
Please call to reserve a treatment time: (401) 219-6446
Mini Stress Reduction Treatment offered each year for AOM Day.
Soft relaxing music will be playing while you rest comfortably in a quiet and private room. 2 to 4 auricular (ear) acupuncture points will be stimulated to encourage a deep sense of relaxation and reduce stress and anxiety. The points are removed after a period of 20 minutes.
The mini stress reduction treatment is a simple way to try acupuncture and experience the benefits. This treatment, usually offered for $20, is free on AOM Day.
There are other opportunities to try the stress reduction treatment throughout the year. Please call for details.
BRING IT TO YOU – If you are interested in hosting a Mini Stress Reduction Treatment at your residence or place of business please call for more details.
---
Visit this link for more information on AOM Day – click here for AOM Day.org