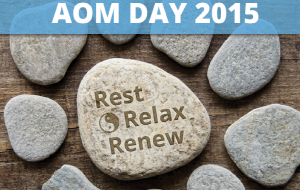 Celebrating
AOM

Day!


A

cupuncture &

O

riental

M

edicine Day on Oct. 22nd!

Monday Oct. 22th 2015   –      9AM – 12 AM and 4:30PM to 6PM
Offering a

FREE

Stress Reduction Treatment ($20 value)
Visit link for more information – click here
AOM Day is observed nationally to increase awareness on the prevention and natural healing benefits of Acupuncture & Traditional Oriental Medicine.
Call (401) 219-6446 to reserve an appointment today!
If you haven't done so here's a chance to experience acupuncture!
If you know of someone who's wanted to try acupuncture, the Stress Reduction Treatment is a simplified, relaxing treatment session without any obligation. Normally offered for $20 it will be FREE on AOM Day. Times are limited so call today!
---
Clinic Location:
Acupuncture & Herbal Medicine Clinic
98...