Cancer Survivors Wanted for Study on Well-Being
The Vitality Project / Sponsors are Lifespan and Brown
Women between ages 18 and 70 may be eligible.
10 weeks of classes on different wellness practices in Fall 2017
You will be compensated for your participation
Call 401-863-6272
Email: cancersurvivor@lifespan.org
SPREAD THE WORD! / Post the photo below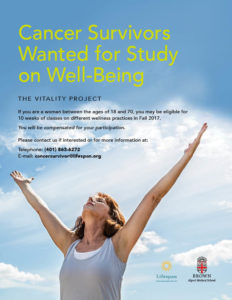 LIKE WHAT YOU SEE?
Subscribe to our email list for all-natural health tips and receive this FREE guide on how to take charge of your health the natural way. Natural Healing for Optimal Health
TELL US WHERE TO SEND YOUR FREE EBOOK

I hate spam too! Your email is safe and will not be shared.