Chi Kung – Experience Qi Cultivation – 3 of 3 articles
Experience Qi Cultivation
The 3rd and final article in this 3 part series ( one, two, three ). will highlight some great benefits of the 4 Seasons Chi Kung Online Program. I have a special bonus for you at the end of the article where you can learn how to take advantage of a special limited-time offer and experience qi cultivation for yourself.
The following points will be covered in this article:
Why I chose an online format for the 4 Seasons Chi Kung program
How this program can be beneficial, convenient, and easy to learn
One of the biggest shortcomings of any exercise
An overview of the different parts of the program
A snippet of the 5 Element correspondences
Free lesson preview of the Winter course.
Special Offer!
Why online? An online forum makes this program more accessible and connects people with similar interests.
Learn at your own pace: Courses online are more convenient. Students can learn and watch the lessons on their own time, most anywhere and at their own pace.
Easy access – anytime / anywhere: Attending one public class per week is not enough exercise for Chi Kung to be effective. You need to learn it through daily practice. Also, everyone could use a review of the movements. An online course makes it easy to access and review.
One of the biggest shortcomings of any exercise in finding greater health is simply this – you have to take time out for yourself. If you agree that "your health is your most important asset" then take time daily to focus on you and your health. You can't be there for others if your health doesn't let you be fully present and able. 10 to 20 minutes of daily practice is a great start.
The 4 Seasons Chi Kung program offers 2 parts for learning: Online 2. Local public classes

Online includes:

4 individual video courses (or sets) practiced in 2 ways

A single set is practice to support a specific health need e. the Winter set supports knee , low back pain and Kidney system support. (See the short version of the 5 Element correspondence chart below. You'll see the Winter set falls under the Water element. Corresponding elements brings awareness to imbalances in your health. Courses can give you a deeper understanding of 5 Element principles and measure you can take to regain and maintain balance to maximize your health.)
Multiple sets can be combined to promote balanced through seasonal change throughout the year.

Additional videos and articles to deepen your learning experience
Conveniently learn at your own pace
Chi Kung Online forum – Instructor and members can interact, ask questions and share stories of their experiences in their practice. People in the online community can make friends and get together in groups and practice the movements together. Group practice generates an abundance of energy to be shared.

Local public classes – periodically throughout the year I will be offering public classes that will allow us to get together, review forms and answer questions. These classes and locations will depend on the number of people who sign up to attend. Public class fees are separate from the program course fees. Stay connected through my newsletters and Facebook for upcoming info.
As mentioned above, here's a snippet of the 5 Element model and the corresponding seasons and organ. What time of year do you have the most trouble? What emotion do you often realize in your life that needs balancing? What environment do you find most comfortable or least comfortable? What part of the developmental cycle of life do you find challenging. Every new idea or task in your daily life has its own developmental cycle. What stage are you in and how best can you generate support?
The Kidney system corresponds to the cold, contracting nature of winter and depleting emotions of fear and fright. Storage is the stage in the developmental cycle of seasonal change that corresponds to winter. Like a seed or a battery, energy is stored to nourish the entire upcoming yearly cycle. Although a contracting energy is necessary for storage, anything in excess can be unbalancing. The emotions of fear and fright can deplete and scatter energy diminishing the Kidney function of growth and development – a function translated into Western medical concepts as the endocrine system and hormone regulation. The Winter set offers support for the Kidney's and low back region.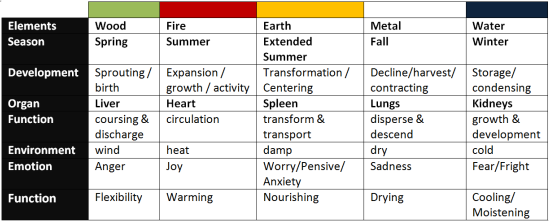 ---
Click here to check out 1 lesson from the Winter course called – Turn the Head to See the Moon. Observe the conditioning influences this movement has on the spine, low back and kidney region.
---
Tai Chi led me on an amazing journey to discover Chi Kung and eventually I dove into the classical teaching of Chinese medicine including acupuncture and Chinese herbal medicine – all because of a deep interest in natural healing and Qi cultivation. What a journey it has been!
Now I hope to share some of these wonderful experiences with you through this membership program called 4 Seasons Chi Kung Online.
A SPECIAL OFFER FOR YOU!!!
The beginning of the new year is a great time to get involved in something new. I want to launch this program by taking $50 OFF All Course Memberships until the end of January 2016! You'll see the $50 savings listed for each course membership on the Online Courses page. After your membership purchase you can get started right away navigating through the lessons and course material. You'll be invited to join the private online group. There you can ask questions, gain insight, connect with other chi kung fans and get notifications on upcoming public class.
I suggest first to visit the Program Overview page to understand the course options. You can then visit the Online Courses page. There you can see membership fees and click on the different courses for more details.
I welcome your feedback. Leave some comments or questions on my Facebook page.
Best Wishes in Health!
>Part 3 of this 3-part series ( one, two, three ).
---