Patient History Form | Forms & Charts | Is Acupuncture Covered? | Workers Compensation | Directions
New patient's can click and print out the patient history form from the link above. Fill it out completely and bring it with you on your first appointment.
For Workers' Comp cases, personal injury, whole food supplement needs, menstrual cycle issues and infertility please click the Forms & Charts link and complete the associated forms.
Treatment Modalities:
Acupuncture
Herbal Medicine
Whole Food Supplements
Cupping
Gua Sha
Moxibustion (heat therapy)
Lifestyle / Diet and Wellness Consultations
Tai Chi and Chi Kung (Qi Gong) Exercise – public and private Instruction (call for information)

(meditation, stress management and moving exercises)

Tui Na Medical Massage
– Call for hours and fees –
Wellness Programs
Conditions often Treated in the Clinic:
Chronic pain (any chronic pain such as Back, Neck, Sciatica, Migraines/Headaches and more)
Stress reduction
Women's health
Digestive disorders
Allergies
Arthritis, bursitis & joint pain
Bladder control disorders
Infertility
Menstrual cycle disorders
Menopause
PMS
Sleep disorders
Smoking cessation
Sports Injuries
PTSD
FREE Ebook – Natural Healing for Optimal Health
This free ebook gives an overview of our philosophy and principles on treatment and healthcare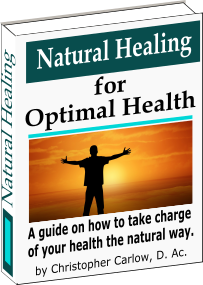 Natural Healing for Optimal Health
A guide on how to take charge of your health the natural way.
natural healing for optimal health ebook
Do you agree…
Your health is your most important asset?
You want to take charge of your health once and for all?
You're looking for all-natural solutions?
If YES…then this FREE EBOOK is for you!
TELL US WHERE TO SEND YOUR FREE EBOOK

We hate spam too! Your email is safe and will not be shared.