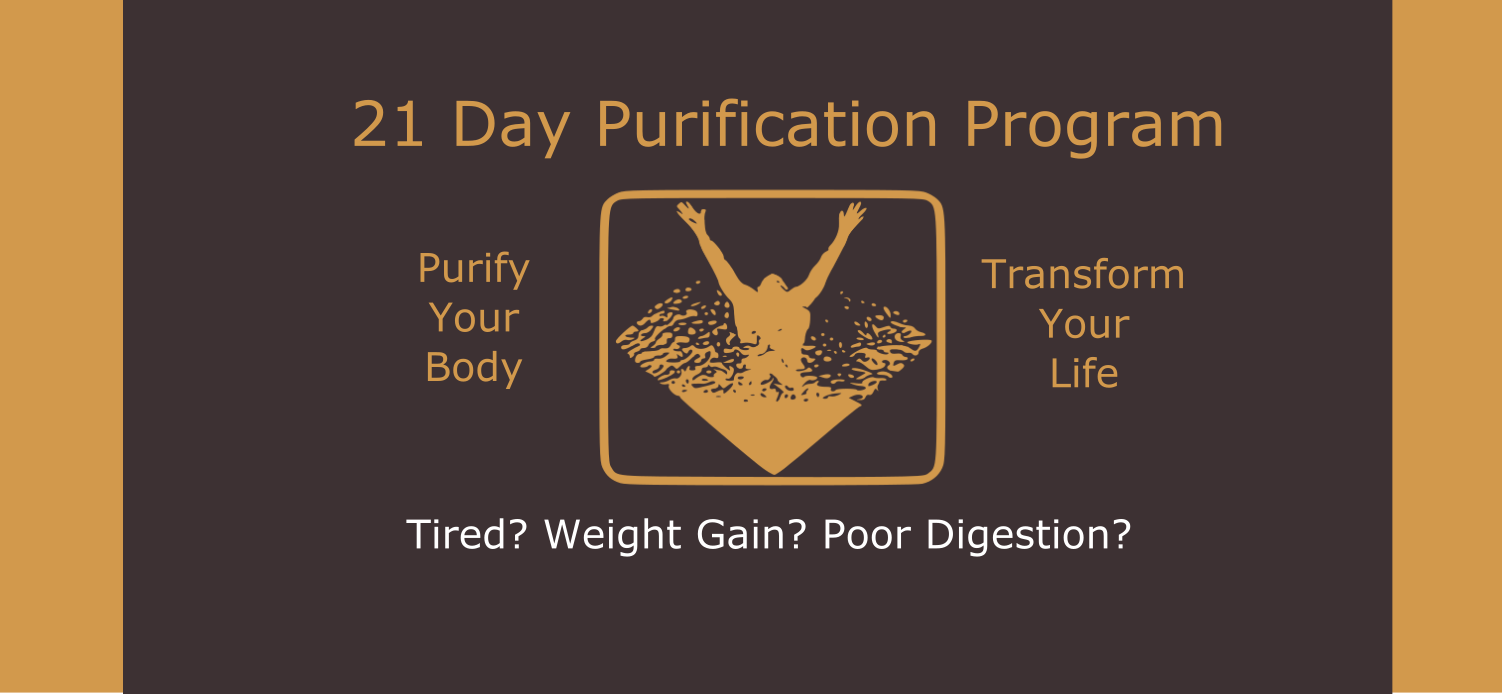 The 21 Day Purification Program utilizes professional grade supplements that are made from organic whole foods to help cleanse the body of harmful toxins so you can experience more energy, improved digestion and maintain a healthy weight. Through stress, poor diet habits and toxic buildup a wide range of symptoms may be experienced such as fatigue, headaches, difficulty sleeping, digestive problems, food cravings, immune challenges, weight gain, allergies, reduced mental clarity and low libido.
This comprehensive program comes with a 52 page program guide that provides complete instructions on the supplement regimen including a list of best foods to eat or avoid. The basic supplements required include a protein powdered mix (whey protein or dairy free-rice protein), and an herbal cleansing formula in tablet form. These important whole-food supplements and natural herbs will ensure not only full protein and nutrient support but promote detoxification of the liver, the master detoxification organ. Support for other important organs of detoxification include the colon, lymph, skin, blood and kidneys. There may be additional supplements recommended depending on your health needs to optimize the benefits of the program. The program guide also contains recipes for some tasty shakes, a daily intake journal so you can track your progress and a helpful 3-page section of frequently asked questions about the program. You will also have access to my professional guidance through the program.
How is this program different from other diets?
This is not a fad diet that commonly results in gaining the weight back you tried so hard to loose. This is a program that understands how the body actually works and designed to give you the tools to purify, nourish and maintain a healthy body and weight. You'll discover how processed foods and sugar-loaded snacks diminishes healthy body function and how whole, unprocessed, preservative free foods with the aid of some whole food supplements and tasty shakes can be revitalizing to stay healthy and maintain a healthy weight.
Empower Yourself Through Education
This program teaches you best practices for optimal health. You will become aware of what foods make you feel good and what foods don't feel so good. You will begin to identify weaknesses such as emotional attachment and addiction to poor food choices. You will learn what foods will provide optimal nutrients to keep your body strong while slowing the aging process. Empower yourself through education and layout a path to optimal health and longevity.
Testimonials: 21 Day Purification Program
"I've just finished the 21 day Standard Process Purification Program and have never felt better.  I am 14 lbs lighter and elated!  And feel that this program was such a great jumpstart to a healthier lifestyle. Never once did I feel deprived or hungry- I didn't even crave chips (my greatest weakness).  Just knowing that I could eat an unlimited amount of vegetables made me feel unrestricted.  I could get creative with my meals and tried several juicing techniques that I never tried before and they were delicious with the SP Complete. I highly recommend this program and wish I had started last year when Chris had first mentioned it to me!" ~Jen

"I have recently completed my second 21 day cleanse.  This has been an amazing experience that has helped clear my body of the cravings for processed foods.  With the help of Dr. C, I am now able to make better food choices and have drastically changed my eating habits.  It is a learning process though.  After the first cleanse, I tried to continue eating the foods that are recommended but started to go back to old habits.  As soon as I found myself doing that, I did another cleanse.  I am now better able to control the cravings.  I feel the more times I do the cleanse, the more by body is reprogrammed and cravings begin to dissipate.  The key to this cleanse is to always have food prepared and available.  With this change, I have so much more energy.  There are foods that I used to eat that I can no longer even bring myself to eat.  It is a very interesting change for me and I am thrilled that I am moving away from old, bad eating habits.  I could not have done this without Dr. C's help and guidance.  The cleanse is well worth the effort!  I highly recommend it."  ~ Susan

"I have experienced the benefits of the 21 Day Purification Program many times and have made this program an important tool for myself and for patients who are looking for a natural path to optimal health. I find the best time to do an internal cleanse is through seasonal change to help the body transition into the upcoming season. For example, during the summer-fall transition as a method of prevention for the upcoming flu season it's good to cleanse and detox the body to help reduce inflammation and phlegm which can inhibit a good immune response. Also the fall and winter holiday season tends to add on a few pounds so a New Year's resolution to do the 21 Day Purification Program makes sense. It's natural to put on a few pounds by eating more heavier, warming foods during the cold winter season but as the temps warm-up through the spring and summer it's a healthy idea to shed those pounds to make it easy to deal with the summer heat."  ~ Dr. Chris, D. Ac.

"Hi, I just want to give you some feedback on the 21 day process. overall, the health benefits have been great. I lost eight pounds and feel more energetic and light on my feet. Following the process for 3 straight weeks was fundamental to the positive outcomes that were yielded. This plan was easy to follow, easy to understand and the booklet that came with it was my bible – very informative. This is a clean, lean approach to food and simple as well because the fruits and veggies that are allowed are plentiful and available right at the grocery store. All and all , I came away with a greater awareness of food choices and much education on meal planning, grocery shopping and how my health is directly related to the food I consume. Good Food = Good Health….thanks again." ~ Elena

"After completing Christopher Carlow's 21 day detox program, I have to say I'm very happy I went through it! I certainly learned a lot through the process including healthier ways to eat, some simple adjustments I can make to my everyday lifestyle and some foods that I really enjoy that I never realized. The adjustment to how I eat on a regular basis from here on out is probably the most exciting aspect of the process for me. Thank you Chris for introducing me to this process and walking me through it each step of the way. I certainly recommend this detox to others and am very happy with the results! ~ Glenn
Comprehensive Purification Program ($199) includes:
52 page program booklet with complete instructions for food selection, recipes and supplementation
Supplements – Standard Process and MediHerb Purification Kit (professional grade whole food supplements  and natural herbs)

protein powdered mix (whey protein or dairy free-rice protein)
herbal cleansing formula in tablet form

30 minute appointment – Purification Program Overview and Launch
Professional guidance and support through the program
A Pre-Purification Program Consult ($40) is available to offer individualized measures that will prepare and ensure a smooth transition into the 21 Day Purification Program.
A Post-Purification Program Consult ($40) is available to offer individualized measures that will help you maintain healthy eating habits for optimal health.
---
Learn more here – Watch this FREE 21 Day Purification Webinar
Stay inform to choose what's right for your health needs.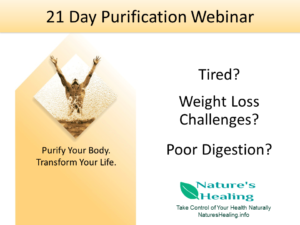 ---
Sick and tired of feeling sick and tired?
Transform your life!
Detox with this Comprehensive Purification Program
Call today!
Tel. 401-219-6446
If you are interested in this program you can call the office at Tel. 401-219-6446 and schedule a consultation and evaluation to review your health and see if this program is right for you.
---
Laboratory Testing and Quality Assurance – Herbal products and whole-food supplements are chosen based on high quality standards and laboratory testing.
Standard Process – Quality Control, Testing & Manufacturing Processes
Standard Process is a professional grade supplement only sold by Standard Process through health professionals. The quality, safety and efficacy of black market products sold without the guidance and care of a health professional are not assured by Standard Process.