Referrals are Appreciated!
People find my services by word of mouth.
Help spread the word!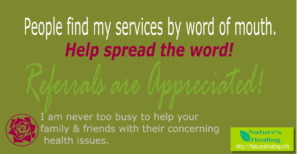 I am never too busy to help your family & friends with their concerning health issues.
Email and share on Facebook, LinkedIn and google+
Best wishes in health!
Dr Chris
LIKE WHAT YOU SEE?
Subscribe to our email list for all-natural health tips and receive this FREE guide on how to take charge of your health the natural way. Natural Healing for Optimal Health
TELL US WHERE TO SEND YOUR FREE EBOOK

I hate spam too! Your email is safe and will not be shared.