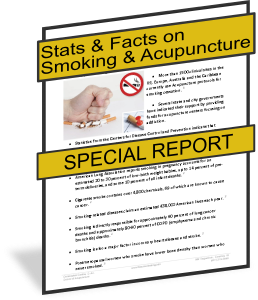 Did you know…
SMOKING is the single greatest avoidable cause of disease and death?
It's true!
Get the FREE REPORT
STATISTICS AND FACTS ON SMOKING AND ACUPUNCTURE TREATMENT FOR SMOKING CESSATION
Enter your EMAIL to tell us where to send this FREE report

We hate spam too! Your email is safe and will not be shared.
If you're a smoker and would like to quit you'll also want to visit this link for more information on a very helpful program