The conventional American diet contains poor-quality foods that are processed, refined, prepackaged, or pre-made which destroys the vital nutrients we need for optimal nutrition & good health. Regarding food too much emphasis is placed on quantity and not quality. Such neglect in good nutrition can lead to major health problems such as diabetes, heart disease, obesity and more. With a proper diet & the right nutrients the body is designed to repair itself. This can be achieved with a healthier diet, exercise & taking a high-quality whole food supplement.
We offer high-quality, professional-grade, organic, whole food supplements that are selected to support individual health needs. You can choose an In-Clinic Evaluation or fill out the Systems Survey Form to determine your nutritional needs.
Detailed Health Evaluation
Systems Survey Review
Medical Pulse Diagnosis
Medical Tongue Diagnosis
Adrenal Testing
Digestive Health Test
Ragland's Postural Hypotension Adrenal response Test
Muscle Testing
Identifying reactive acupuncture point through palpation
Additional Testing as needed include:
Hair Analysis Testing – identify mineral imbalances, heavy metal toxins and the functional health of the thyroid, adrenals, blood sugar level handling, overall vitality, digestive health.
Saliva Testing – identify hormone imbalances
Treatment Plans may include:
Systems Survey Form – No Fee for initial evaluations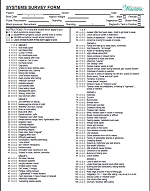 A very affordable way to identify nutritional needs and find safe, high quality supplements to support your health. Simply click the Systems Survey Form. Print and fill out the form by hand.  Follow the instruction on the form. Also include your Name, Age, Address, Gender and complete the list of 5 main complaints in order of importance at the end of the form.
How to return the form to the clinic:
By mail or drop it off: Acupuncture & Herbal Medicine 982 Tiogue Coventry, RI 02816
Scan the completed form and email it – Clinic Email: Christopher Carlow, D. Ac.
I will evaluate the form and provide safe, high quality whole food supplements based on your nutritional needs which can be mailed out to you for your convenience. ou can schedule a consultation in person or over the telephone to review the results.
The Systems Survey Form has 224 common symptoms grouped in 9 sections related to different body functions or systems:
Nervous System – Sympathetic / Parasympathetic Balance
Sugar Handling
Cardiovascular System
Liver and Biliary System
Digestion
Endocrine System

Thyroid, Pituitary and Adrenal Systems

Female Hormone Balance
Male Hormone Balance
Treatment Plans may include:
If you have questions please call the clinic – tel: 401-219-6446